21 Big Ideas For Decorating Small Rooms
While decorating a small house, apartment, or flat requires the same amount of planning and consideration as decorating a larger space, the rules are different.
Small areas are frequently compared to a stage set. Because the elements in your living room must be visible from across the room, it should not take long for the viewer's eye to move around. You must ensure that the space is both spacious and functional.
Living in a small space can present its own set of challenges as well as joys. Living in a small space can be difficult for some people, but it can also be a rewarding challenge for others.
When you optimise and organise your space, and everything has a place, you will spend less time cleaning and more time relaxing, exercising, cooking, and laughing with family. Small spaces, when done correctly, are good for the soul.
Decorating Small Rooms
So how can you make a small residence appear larger? Here are twenty-one ideas for decorating small rooms in your home to make them feel bigger, more functional, beautiful, and fully deserving of your admiration.
1)
Ideas for Small Rooms:
Clear Spaces First!
The use of see-through furniture can keep a room from feeling cramped and can create the illusion of more space. It also allows you to separate your personal space while remaining social. If you have a small space, open shelving can be used to create a room divider that also serves as extra storage.
There are numerous options for the design of your living room furniture. Decide on the colours you want to use and how you want the walls to look. Once you have planned everything out, you can start shopping for new items or consider up-cycling some high-quality secondhand items.
A nest of tables is a great choice for small rooms, and if you have the space, you might want to consider adding a coffee table as well. Raised legs on a chair, couch, or bed will also give the impression of more space and provide valuable floor space. Vacuuming is also easier with the legs raised.
2) Light Matters when Beautifying Your Living Space
If you are thinking about bedroom decorating ideas or living room lighting ideas, being exposed to cold, clinical lighting is not ideal. Bright task lighting is useful in places where it is needed, but consider upgrading to a more aesthetically pleasing lamp to warm things up.
Your rooms may appear lighter or darker depending on the orientation of your home. Allow as much natural light as possible to enter your rooms. If adding additional windows or skylights is not an option. Try adding a frosted glass panel to the inner doors or glazed doors in place of solid doors, or bi-fold and tri-fold doors in place of double doors to make your home more natural-lit.
It creates an open feeling, and if the door leads to a brighter room, it will diffuse light into the darker room. Do not be concerned if your doors cannot be replaced. Instead, how about painting them in soft, fresh colours?
Colors appear differently when incandescent, fluorescent, or LED bulbs are used. The light output of an LED bulb is indicated by a number in thousands. This number is followed by the letter "K," which stands for Kelvins, a unit used to measure light temperature. 
Bulb light has a wide temperature range, from "warm" light with a slight amber tint to "cool" light with a brighter white hue. A higher K number denotes light that is brighter and cooler.
You can, for example, create a more relaxed atmosphere by using a 2700K bulb. Natural lighting has a kelvin rating of around 3500K, which is in the middle of the spectrum. A Kelvin range of 5000K or higher indicates that the light from the bulb will be bright, cool, and possibly harsh.
When selecting lights for a room, keep the décor in mind. The warmth of the light enhances the appearance of rich wood-finished floors and furniture. Medium-intensity lighting may look best in rooms with a lot of white. The brightest cool white bulbs, on the other hand, can make primarily white rooms appear harsh and stark.
3)

Small Multi-Purpose Chambers

When space is limited, multi-purpose rooms are the best option. A bedroom can also serve as a reading room or an office.

Layering different types of furniture within a room can give the impression of more choice and functionality.

For example, if you want a specific area to serve as both an office and a dining room, place two lounge chairs at right angles to one another. Keep in mind that furniture does not have to be a permanent fixture; it can also be moved.

In small spaces, multi-functional furniture is essential. While entertaining guests, ottomans can transform from a simple footrest to extra seating or end tables.

Please continue reading because I will offer some suggestions to help rethink how spaces can be adapted as working from home, either permanently or as a hybrid model, becomes more common among office-based workers.
4) Decorating Small Rooms: Alcove Beds
An alcove is a small recess in the wall of a room or garden, usually with three walls, that can be enclosed to serve as a simple sleeping or resting place.
Alcove beds are a brilliant idea for saving space and can help utilise awkward architectural spaces, especially in modern homes with small living quarters, such as townhouses or apartments/flats. They work best with single beds and can be closed off and concealed, allowing you to use the bed as a dayroom.
This type of feature works well with hollowed-out built-in wardrobes or slanted ceilings, and clever shelving can often be incorporated.
I recommend that you look into some very clever space-saving Japanese bedroom designs. Tokonoma are alcoves, which are a common feature in Japanese room design. A tokonoma is a decorative area that can be found in a Japanese tatami room. It is at the far end of the room, directly across from the door. Here you might find a beautiful Japanese scroll displaying a painting or calligraphy, seasonal flowers, or other ornaments on display.
When considering small bedroom decorating ideas, having a seating area is always a good idea. Even if it is just a small corner, you will need somewhere to sit while getting dressed and ready for the day. A closet with a bench inside will provide seating as well as storage. Or multi-purpose furniture, such as a storage stool.
6)
Decorating Small Rooms with
Dark Walls?
Although it may seem counterintuitive, painting the walls dark in a small room can also work. They can add a subtlety of hues, and when it gets darker, the edges of a room become less defined, giving the illusion of more space.
By contrast, black, dark grey, or dark blue walls will make the room appear larger. To add interest and break up the monotony of the dark colours, use an accent colour in chairs, throw pillows, lampshades, or decorative objects. Do not be afraid to experiment with colour on the walls.
7) Door Handles
Even if you do not have a lot of space, there are plenty of ways to make the most of it. In addition to maximising your space, maximising every area will make your home feel larger and cosier. You can also find small living room ideas to make the most of your space.
For example, doors and their handles are not only used to create openings. They can also act as a carrier of things with handy pockets.
Doors can also be converted into shelves or storage for other items. You do not have to build a fancy closet system or buy expensive accessories if you need storage.
Consider taking a closer look at your closet if you believe it is already overflowing. You can increase storage space and keep small items organised and easily accessible by utilising the space behind the door. Over-the-door shoe organisers can be hung with pockets for loose supplies like markers, paintbrushes, scissors, and so on. Label each pocket to keep everything organised.
Think like a designer, expect the unexpected what will you do to your door? Making innovative use of every space is important to remember.
8) Decorating Small Room Ideas: Hallways
Take advantage of your hall space and line with shelves where you can. Storage space is super important when you live in a small place. Having areas that double as storage will save you tons of time and money over the years. For example, instead of buying an expensive bookcase for your living room, add shelves to the wall where you can store books and extra items.
Even a few short shelves can contribute to your de-cluttering of the main rooms. A line of 8 to 10 books sitting on a shelf is far more pleasing than stacks of them lying around. Maintain the appearance of the bookcase, by using bookends to keep your rows of books aligned. Do not let one or two overrun the boundaries and disrupt the design. If you can get away with a floor to ceiling shelving, even better.
Additionally, a hallway bench with built-in storage can help to maximise a tiny space and allows visitors a spot to sit and take off their shoes.
Both doors and their handles are not just for openings. They can also act as a carrier of things with handy pockets. Utilizing every space is key to remember?
9) Use of Radiators when
Decorating Small Rooms
The shape of some radiators are bulky and can take up too much space in a hallway or room. By covering them up, you can improve the appearance of a room, as well as provide some additional surface space.
Alternatively, you might consider modernising with a vertical radiator. Wall mounted radiators save you space and look great. Alongside my artwork, this is another great way to create a focal point in any room, and add value to your property.
10) Use Ladder Shelves when
Decorating Small Rooms
Smaller rooms have a variety of storage options. Even though you may believe that by working around the square footage limitations, one type of storage will meet all of your needs, this is not the case. Every type of storage solution will work better in some situations than others, and may actually worsen the small space you do have. Having a variety of storage options can greatly benefit your smaller room layout.
A leaning ladder shelf is an excellent way to increase shelving space without taking up too much space. As the widest space of the ladder is at the bottom, you get to avoid over whelming the upper area. This is the ideal location for large items that will not fit on other shelves. It is important to keep a ladder shelf securely fastened to the wall at all times.
11) Use Corner Shelves when
Decorating Small Rooms
Every corner of the room has something to offer. Obviously, you shouldn't overdo it, else you'll be hitting your head at every corner. However, a simple corner shelf above a couch can be a great addition to a room, especially if it takes advantage of a limited space.
How about this floating shelf above a couch? Such space-saving idea can be implemented in so many ways and will create a unique ambiance in your living room. If you live in an apartment/flat with not enough storage space, consider utilizing wall space for storage.
12)
Decorating Small Rooms: 
Table For Two?
Are you tired of eating from your couch? Because we do not all have the luxury of a large dining room in our homes, we need creative solutions. So, for the sake of space, skip the large table and go for a simple two-seater instead. With a table this size, you can comfortably seat two people and it may just about suffice for entertaining friends.
Invest in a compact dining table that will fit into small spaces while also being trendy. A multi-functional design, such as one that folds down or can be used as a console table, is a good strategy. When not in use, you may want a desk with storage, one that can be completely folded away, or one that can be used as a work desk during the day. There are also narrow dining tables that can be pushed up against a wall, as well as bench-style tables with benches underneath.
If you entertain frequently, you should consider purchasing an extendable dining table. It folds neatly away while still comfortably seating up to six people.
Slender, square, and rectangular tables fit into corners, while round tables appear visually spacious if the legs are cleverly positioned so that your chairs fit neatly under them.
Finally, always measure your space before purchasing a dining table to ensure that it will fit and be proportionate to the room. Using an area rug as a beautiful centrepiece for your table is a great way to add some style to a small dining space.
13) Consider High Shelving when
Decorating Small Rooms
If you are running out of space in your kitchen or living room, consider wrap-around shelving for items you do not use frequently.
Many homeowners enjoy changing up their interior design to improve the appearance of their homes. Shelves are a low-cost and practical way to improve the aesthetics of a room. Higher shelves create the illusion of more space while also elegantly displaying your books, pictures, china, and other treasures.
When you incorporate higher shelves into your decor, you maintain a clean and clutter-free eye level.
It is critical to make use of vertical space. Make the most of your space if you have high ceilings. Installing floating shelves and, of course, hanging wall art are both excellent options. If your ceiling height is average, you can add storage by installing vertical shoe racks on the wall or in the closet.
14)
Decorating Small Rooms with
Mirrors
We are all aware that not everyone is fortunate enough to own a large home or a two-story house. These people usually have some additional restrictions on what they can do when it comes to decorating their home. There are some tricks and products that can help make small rooms appear larger, but it is more about what you put in the room than the size of the room.
A few strategically placed mirrors, or one large mirror, will reflect light in the right places and create the illusion of a larger room.
Consider strategically placing rectangular mirrors in either landscape or portrait orientation, especially if your ceilings are high.
Mirrors, as I have mentioned in previous articles, will also help reflect any artwork you have.
15) Decorating Small Spaces with Drapery
Depending on your desired décor, you might want to consider curtains with light-colored stripes. This can help to create the illusion of more height or width. Keeping your curtains and walls the same color will help to avoid further dividing up small rooms.
You can create layers by double layering curtains, which soften the look of windows and help to filter the light in the room. Curtains, when closed, are an eco-friendly way to keep out the cold and save money on your energy bills.
Curtains and blinds provide greater control over the amount of light that enters a room than just curtains. They are also better at blocking out excess light, which is especially important if you live in an area that receives a lot of sunlight during the day. If you choose roller blinds, you can draw them up to create more space.
Another way to use curtains is to create a private haven. By installing a textile-covered ceiling rail, you can easily divide your space, create privacy, and reduce noise.
16) Minimalist Decorating for Small Rooms
Avoid fussy details on furnishings in a small room, and instead go for clean lines and light colours. This will keep the eye from being overly distracted.
Do not cram too much furniture into a small space. This can lead to a claustrophobic sensation and excessive furniture will make the room appear smaller than it is. Keep your furnishings simple, and you will have more room to move. Make sure there is enough natural light entering the room.
17) Retain Empty Spaces in Small Rooms
The way a room is decorated can make it appear small or large. The absence of objects in a room scheme is just as important as the presence of objects.
We can see the chosen pieces clearly by adding negative space, allowing our eye to rest between them. This may appear to be counterproductive in small homes, but leaving some empty space on shelves and surfaces makes rooms appear larger.
We spend a significant amount of our time at home. As a result, it is not surprising that designers are so interested in the home. Our homes should always be special places, and we can use our skills and creativity to make them even better.
Make sure you have enough space to store your entertainment equipment, but keep in mind that putting a large TV on a small stand in a small room is not a good idea. If the TV is too large, it will take over the room and make it appear crowded. You may not be able to appreciate and view it properly if you are seated too close!
18) Decorating Small Rooms: Keep It Down Low
Low-profile furniture, including items like floor cushions, will free up some headroom and make a room feel more open. Follow this up with low-hanging mirrors and pictures to increase the openness. This is another popular Japanese design and styling trick.
Stenciling is an excellent way to bring colour and life to a drab room. If you are not sure where to begin, look around you for ideas. The elements that surround you will provide the best design inspiration. To make a room feel more inviting, replace dull light fixtures with brighter ones.
19) Invest in Sliding Doors when
Decorating Small Rooms
Replace a standard door with a sliding door and you will notice a significant difference. Because the sliding door does not have a frame and has a small swing, it takes up less space. The sliding door's main advantage is that it can be opened from both sides.
Space Saving
The ability to save space is the primary benefit of sliding doors. Sliding doors, as opposed to hinged doors, operate by sliding sideways. They are an excellent choice for smaller rooms as well as wardrobes and cupboards.
Furthermore, the side-to-side movement creates a wider access path, which can be very useful when moving large items throughout the house during a renovation or move. You can make two smaller, more intimate spaces by sliding doors between two rooms, or you can make a large one by removing entire walls.
Light Creation
The presence of large glass doors in a room allows maximum light to filter through, creating an airy and bright environment. Furthermore, glass doors, as well as large mirrors, can create the illusion of more space, especially when installed as patio doors or other outside-facing doors.
As an added bonus, inviting light in this way can help you save money on energy bills by keeping electric lights off late into the evening. The extra light helps to open up rooms, giving the impression of space, while also creating a desirable design feature for your home.
Design Benefits
Sliding doors are appealing not only for their functionality, but also for several aesthetic benefits. There are many different types of sliding doors available, including those with rounded corners, those that fold up, and those that slide straight.
Just keep in mind that sliding doors are not always as simple to install or maintain as standard hinged doors.
20) Bicycle Storage
Bicycles are relatively expensive pieces of equipment that need to be stored properly in order to avoid damage, and save space. With the ever rising popularity in cycling and storage issues urban areas, has led to an increase in problems related to bike storage.
In addition to cyclists living in small apartments, pedal-power lovers living in larger homes can also have difficulty when its comes to innovative storage solutions.
This section aims to offer some helpful advice for storing bikes, including some benefits of using some types of bike racks. There are a variety of maximizing space options for you to choose from:
Horizontal Wall Mount
Your bike is more than just a mode of transportation–it's a part of your identity. Show it some love by displaying it on a beautiful wooden wall mount. Many of these mounts come with a shelf and hidden storage drawer, making them both functional and stylish.
If you have two bikes, there are a number of storage units that can accommodate them. Some simply lean against the wall, while others have adjustable arms to fit different bike sizes.
For a more permanent solution, ground stands are a popular option.
However, if you're looking for something more budget-friendly, heavy duty screw-in anti-slip square storage hooks are available at most hardware stores.
Vertical Wall Mount
You can get wall mounts for your bike that are made from sustainable wood. Each rack is cut from a perfectly chosen section of material, and compered to metal, reduces the risk of damaging your bike's surfaces.
Looking for a space-saving bike rack? Get a wall-mounted, foldable one that you can easily tuck away when you're not using it. A bike rack with a durable steel back plate and PVC cushioned sleeves is ideal to protect your bike from scratches.
21) Working from Home Tips
Now that so many of us work from home, or have adapted to a hybrid model, it is time to reconsider how we use our homes. From establishing work/life boundaries (physical and mental!), to squeezing multiple workspaces into a home, alongside some original artwork I will help you find a happier, more productive way forward as you embrace this new lifestyle.
Are you tired of being tired? Do you want to cuddle up with your laptop? A laptop pillow or portable table will keep your body comfortable. Your hands and wrists will thank you, and your back will not hurt as much.
I have had back surgery for herniated and degenerative discs to relieve chronic sciatica nerve pain, which I would not wish on anyone! Remember to get up and move around, to take regular breaks, and to rest your eyes.
Make time for exercise and select a room in your home where you can easily roll or move furniture out of the way.
Think Multi-Use when Decorating Small Rooms
A dining table can also be used as a desk. When it is time for dinner, simply pull up a desk chair that you can easily wheel to the side.
Set aside a box or basket for your work supplies so you can easily pack them away and tidy them up at the end of the day. You might even consider covering your workspace to keep work out of your mind during your leisure time.
As an artist, I am constantly aware of natural light. Aside from providing better lighting for video calls, orienting the desk toward a window will help prevent eye strain and screen glare.
Avoid using bright white, dark colours, reflective materials, or anything with a high sheen when holding video calls with a wall behind you. These features will not only drain your skin tone on camera, but they will also reflect and absorb all of the great lighting you have just added.
Reflect your Own Style
Make your workstation blend in by coordinating the colours and textures of furniture and accessories with the rest of your room.
Create a Mobile Workstation
Choose a small drawer unit on casters to store your office supplies. It can also double as an extra night stand for the spare room bed.
Use the Walls
Dedicate a cork or peg board to each person, so everything you need is within reach, and off the floor and work surfaces.
Think Outside the "Desk"
Add different work solutions like a laptop table with a stool or a lap desk to allow multiple people to use the space at the same time.
Two People, One Desk
Choosing a larger desk allows for enough space and flexibility for one or two people to work side by side.
Wi-Fi
Only connect as many devices as you need whilst you are working. If you are getting poor speeds or connections, try changing the channel on your router or consider getting some Wi-Fi boosters. Failing that you might need to increase your internet speed.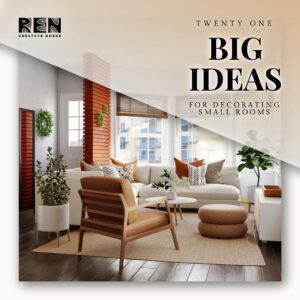 Conclusion: Big Ideas for Decorating Small Rooms
I hope you enjoyed my blog post about making a small room appear larger. I understand how even the smallest decorating projects can seem to take an eternity and can be challenging, especially if you're just getting started! The key to making small rooms feel larger and more functional is to use the appropriate furniture and home decor. It will make all the difference once you have your furniture in place.
People often do not want to put in the hard work when decorating small rooms, but this article shows you how to make any room, no matter how small, into a home you are proud of using various decorating and styling techniques.
This blog post was created to include twenty one ideas, some of which are very simple, that you can use to make your home more cheerful and inviting. Your house will be a better place as a result!

I hope this post motivates you to take action and develop a genuine emotional connection with your home. Furthermore, it should make your space appear larger, more functional, and something you are proud of.
Please do not hesitate to contact me if you have any questions or comments. I would be delighted to hear from you!
If you think a friend, family member, or business associate might be interested in this article, please feel free to share and subscribe.
Thank you for reading.
Summer Forest
Colorful and vibrant, part of a series ideal for any sized room.