TL:DR
Surprise your loved ones with unique and meaningful artwork that reflects their personalities and passions—a gift that will be cherished for a lifetime.
Elevate special moments like birthdays, anniversaries, or graduations by gifting a personalised artwork that captures the essence of the occasion and the recipient's journey.
Commission a one-of-a-kind piece of art to convey your deep appreciation and thoughtfulness, leaving a lasting impression on your loved ones.
Introduction: Why Giving Gifts is Important
Gift giving is as ancient as humanity, and with online shopping at our fingertips, finding gift ideas has become easier than ever.
When an occasion to give a gift for friends or family arises, we can sometimes make a snap decision. Nevertheless, send an impersonal one, and it can be just the same as not sending one in the first place.
However, an unique gift will demonstrate to the people you care about that you have put some thought into their present.
Why Do Some People Never Appreciate the Presents They Receive?
Gift-giving is a common practice that is deeply rooted in many cultures around the world. It is a way to show love, appreciation, and thoughtfulness towards others.
However, it can be disheartening when the recipients of these gifts fail to show the expected level of appreciation. So, why do some people never appreciate the presents they receive? Let's explore some possible reasons:
Unmet needs or wants: One possible reason why some people may not appreciate the gifts they receive is that they feel their needs or wants are not being met. Perhaps they were expecting something else, or the gift does not align with their personal preferences or interests. In such cases, the recipient may struggle to find value or meaning in the present, leading to a lack of appreciation.
Impersonal nature of the gift: Another factor that can contribute to a lack of appreciation is when the gift feels impersonal. People often appreciate gifts that show an understanding of their personality, interests, or desires. If the gift feels generic or lacks personalisation, the recipient may struggle to form a connection with it. This can make it difficult for them to genuinely appreciate the present.
Lack of gratitude for what they already have: Sometimes, people may fail to appreciate the presents they receive because they have a general lack of gratitude for what they already possess. This can stem from a mindset of constantly wanting more or taking things for granted, or not understanding the thought and effort that went into choosing and preparing the gift. When individuals fail to recognise and appreciate the blessings they already have, it becomes challenging for them to appreciate new gifts that come their way.
Feeling overwhelmed by the volume of presents: In some cases, individuals may receive an overwhelming number of presents, especially during special occasions like birthdays or holidays. When faced with a large quantity of gifts, it can be difficult for the recipient to fully appreciate each one individually. The sheer volume of presents can lead to a sense of overwhelm and make it challenging to give each gift the attention and gratitude it deserves.
Unrealistic expectations: Lastly, some individuals may not appreciate the presents they receive because they have unrealistic expectations about the gifts they should be given. They might have high standards or specific ideas about what constitutes a valuable or desirable gift. When the actual presents fall short of these expectations, it can lead to disappointment and a lack of appreciation.
Some people fail to appreciate the gifts they get for a variety of reasons. As gift-givers, it is critical to remember these reasons and avoid taking it personally; simply remember it the next time!
How to Choose the Right Gift
Another reason is perhaps you did not properly analyse a person's values and what they already own. You will most likely give them something less than extraordinary, because giving any less would be perceived as offensive.
Why are Some People so Difficult to Buy Gifts for?
People who are difficult to buy for are often those who already have everything they need.
Perhaps some people love surprises some people do not. Many would find it simpler if gift giving was eliminated altogether and they no longer had to worry about both choosing a gift for themselves and selecting a present for their loved ones.
Gift Ideas for a Personal Touch
If you are looking for a unique gift ideas that shows you put some thought into it, something with a personal touch is always a good option. Maybe you could get a custom-made piece of jewellery, or cook the person their favourite meal. If you are in any way creative, you could make a special decoration or ornament for their home.
However, do not worry if you are short on time or skill, as there are many talented local artists and crafts people who can help you create something special.
Gifts for Creative People
Creative people are always appreciative of a well-thought out gift. If you are looking for a unique gift for a creative person, consider something that is inspired by their passion. For example, if they are an artist, consider a painting, you will find that they will regard another artist's work highly.
Occasions for Gift Giving
Online commerce is extremely competitive, and in a world full of choices, so many businesses are trying to stand out and be noticed. Give yourself time to understand whom you are buying for and find the perfect gift for any occasion.
Giving the ideal present does not happen frequently, so make it count. Here is a list of occasions to celebrate for which you might want to send someone something special.
Anniversary
If you are reading this article, chances are you might be in need of giving a gift to the special someone.
In terms of celebrations, nothing beats that anniversary. Show how much you care by choosing thoughtful gifts from unique outlets, making sure your gift does not cost too much and above all, determining if the gift should match with the theme for that year.
To help you choose what to give every anniversary, I have listed some recommendations that are most relevant to my work:
The first anniversary, for example, is paper, the second anniversary is cotton, and the fifth anniversary is wood, all of which are substrates I work with. This is great for you because it eliminates the need to wait until the 26th anniversary, which is art.
Furthermore, flowers are associated with each celebration milestone, similar to how each wedding anniversary is tied into a traditional present. Consider each anniversary to determine which flower is correct for the occasion! For example, the first anniversary flower is Carnation, the second anniversary flower is Lily of the Valley, and the fifth anniversary flower is Daisy.
This is something that could easily be incorporated into a painting, and unlike flowers, it would last a lifetime!
Birthday
It is my birthday today! I cannot believe I am another year older. Nevertheless, I suppose it is a good thing. I am sure someone has gotten me an awesome birthday present. I cannot wait to see what it is! Oh, socks and shower gel again!…
A birthday gift is a present given to someone on their birthday, this year send something unique like an original painting, or offer them a choice with one of my E-Gift Cards.
Bodhi Day
Bodhi Day is a special day to celebrate the attainment of Buddhahood by Siddhartha Gautama. It is also a time to reflect on the path to enlightenment and to remember the Buddha's teachings.

Buddhists celebrate this holiday all over the world, and many people give gifts in honour of Bodhi Day.
Chinese New Year 2023
Chinese New Year is the festival that celebrates the beginning of a new year on the traditional lunisolar and solar Chinese calendar. The 'Spring Festival' as it is also referred to, occurs on the first day of the first month of the Chinese calendar between 21st January and 20th February.
Gifts are usually brought when visiting friends or relatives at their homes. Common gifts include fruits (typically oranges, but never trade pears), cakes, biscuits, chocolates, and candies. Gift-wrapping in red or gold is seen as a sign of good luck.
Christening
A christening gift is a very special present that is given to a baby when they are baptized. Usually a religious item is meant to symbolize the child's faith.
A christening is a religious ceremony that marks the formal admission of a person into the Christian church.
Have you considered commissioning a painting to celebrate a special day like this?
Christmas 2022
Christmas is a time of giving and receiving gifts, spending time with family and friends, and celebrating the holiday season. It can be a difficult time for many people, but by being inclusive, it can be a time of joy and happiness for everyone.
This year, instead of looking at the typical guides for holiday gift ideas, do something different and find a gift that is not widely available on the high street.
Diwali
Diwali is a festival of lights and one of the major festivals celebrated by Hindus, Jains, and Sikhs. The festival usually lasts five days and is celebrated during the Hindu lunisolar month Kartika (between mid-October and mid-November).
A Diwali gift is an expression of love and affection. It is a token of appreciation for all the good things that the person has done for you.
Easter 2023
This Easter, give your loved ones a gift that will keep on giving. A gift that will bring happiness and joy for years to come.
Eid al-Fitr
Eid al-Fitr is a religious holiday celebrated by Muslims worldwide that marks the end of Ramadan, the Islamic holy month of dawn-to-sunset fasting.
The end of Ramadan is a time for celebration. Sweet dishes and foods are often prepared and consumed. Muslims typically decorate their homes, and are encouraged to forgive each other, seek forgiveness and share gifts.
In countries with large Muslim populations, many locals celebrate Eid al-Fitr with a public holiday. Most schools and businesses close for the day to observe the religious holiday. Practices and celebrations vary by country and region, but all are centred on giving thanks for the end of Ramadan.
Engagement
When it comes to engagement gifts, they do not have to be as formal as wedding presents.
Many couples may prefer something that will help commemorate their announcement, such as an engraved frame or a piece of jewellery with the date.
Consider giving a gift for someone you love as unique and unforgettable as art.
Fathers Day 2024
Father's Day is a day to celebrate fathers and fatherhood, paternal bonds, and the influence of fathers in society. Father's Day is observed by over 111 countries worldwide on a variety of dates.
A customary day for the celebration of fatherhood in Catholic Europe is known to date back to at least 1508. It is usually celebrated on 19th March as the feast day of Saint Joseph, who is referred to as the fatherly Nutritor Domini ("Nourisher of the Lord") in Catholicism and "the putative father of Jesus" in southern European tradition.
It is celebrated annually on the third Sunday of June in the United States. Starting in 2022, the Holiday will also coincide Juneteenth, a federal holiday which takes place on 19th June, although this will occur occasionally in 2033, 2039, 2044, and 2050.
No matter which date is observed where you live, this year, how about getting your dad a unique gift? Perhaps he would love a painting of a classic car like this one?
Don't condemn your father to a world of "Fathers Day gifts" like penknives that double as torches, perplexing monogrammed handkerchief sets, and shower gel/deodorant combos. Gifts for dads can be uncommon and one-of-a-kind, such as a painting created specifically for him.
Good Luck
A good luck gift is typically a trinket or an object that is given to someone in order to bring them good fortune. These gifts are suitable for any occasion and can be given to anyone.
There are numerous traditional expressions and fables that explain why the Irish are so fortunate. Or, ironically, luck was born from perseverance after surviving centuries of inherent bad luck and adversity.
In Irish, this is empathic way of saying "good luck." It is pronounced as guh n'ayr'ee uhn boehuhr l'aet.
Cliché sayings aside, remember that by supporting any Irish artist, you will automatically receive an unprecedented level of additional luck, allegedly…..
Halloween
According to Irish folklore, Halloween can be traced back to the ancient Celtic tradition of Samhain, which are believed to have pagan roots. The old Irish for 'summer's end', Samhain marked the end of the harvest season and the start of the New Year.
Celebrated in Ireland and Scotland for centuries, Irish and Scottish migrants brought many Halloween customs to North America in the 19th century.
Although Christmas usually gets the most gift attention, there is no reason you cannot give presents on other holidays.
Although Halloween is a time for costumes, candy, and fun, it is also a time for giving and receiving gifts. If you are looking for a Halloween gift for someone who is obsessed with the spooky holiday, you have come to the right place.
Hanukkah
Hanukkah, also known as the Festival of Lights, is a holiday celebrated by Jewish people all over the world.
It commemorates the victory of the Maccabees over the Seleucid Empire (Syrian-Greeks) in 164 BCE and the subsequent re-dedication of the Second Temple in Jerusalem.
Hanukkah is a cherished eight-day holiday that usually begins on the 25th of Kislev (November-December), according to the Hebrew calendar. A popular tradition associated with Hanukkah is the giving of gifts.
Home Décor 
A home decor gift is the perfect way to show someone you care about and want to make his or her home look beautiful. Additionally, it is great way to buy an uncommon gift for a whole family / household to enjoy.
In my experience of working with clients on commissions, they love the wonderful style and the statement my work makes in their homes.
I like to understand the requirements first to ensure that my artwork suits the space perfectly. This allows me to go above and beyond in creating work that reveals something new every time it is viewed.
Housewarming
The term "housewarming" is said to have originated from the days when people would warm up their new homes by using fires, in the days before central heating.
Guests would bring firewood and build fires in all the available fireplaces, offering firewood as a gift. Aside from warming the house, this was also believed to repel evil spirits by creating a protective atmosphere of warmth.
In medieval times, uninhabited houses were considered targets for vagrant spirits and were often cleansed before being occupied by young children.
Perhaps a painting depicting a roaring fire, or use of a warm colour palette such, as reds, oranges, and yellows, would make a perfect gift for your friends or family.
Leaving
When someone joins your team or hires you, it is considered a big deal. Likewise, when someone leaves their job, as a courtesy colleagues usually want to give something meaningful to show their appreciation.
Even if they do not know you well, they will still remember the collective gesture and appreciate it at some point in the future.
Mothers Day 2024
Mother's Day is a unique opportunity to express your gratitude to your mother. Consider what she enjoys to pick the right gifts for her; traditional gifts on Mothers Day include flowers, jewellery, and gift cards.
Mothering Sunday is celebrated on the fourth Sunday of Lent in the UK, three weeks before Easter. This date changes every year because it originally began as a church tradition. Mother's Day falls on a different date each year, as it is based on the lunar calendar.
In the United States, Mother's Day is not celebrated as a religious holiday. It became an official US holiday in 1914 when the President Woodrow Wilson, declared the second Sunday in May as a day of 'public expression of our love and reverence for the mothers of our country.'
No matter which date is observed where you live, this year, how about getting your mum a unique gift? Despite the usefulness of generic gifts for mothers, scented candles only have one specific job, and a creamy-paged notebook will never go to waste.
Do you think she might like an original and unique painting just for her?
New Year 2023
This year, I decided to get my mother a New Years gift. She has always loved reading, so I thought a Kindle would be the perfect present. I was a little worried that she might already have one, but after asking her, I found out that she did not. I was so happy when she opened the gift and started using it!
Retirement
Whether you are looking for something funny or sentimental, a retirement gift is an excellent way to express your gratitude for a work colleague's years of service and to mark their legacy. 
However, if you are looking for something a little more one-of-a-kind as a tribute for your work colleague's career, consider commissioning a piece of art.  
Thank You
A thank you gift is a gesture of appreciation for a kindness or favor received. It can be something as simple as a card or a small token of appreciation, or it can be a more elaborate gift. No matter what the gift is, it is a way to say "thank you"
Thanksgiving 2022
Rooted in English traditions dating from the Protestant Reformation, Thanksgiving Day, is an annual national holiday in the United States, Canada, Grenada, Saint Lucia, and Liberia celebrating the harvest and other blessings of the past year.
Americans 'generally' believe that Thanksgiving is modelled on a 1621 harvest feast shared by the English colonists (Pilgrims) of Plymouth and the Native American Wampanoag people.
It was not until 26th December 1941, that President Franklin D. Roosevelt signed a joint resolution of Congress changing the official national Thanksgiving Day to the fourth Thursday in November starting in 1942. Although in Canada, it is observed on the 2nd Monday in October each year.
It began as a day of giving thanks for the blessing of the harvest and of the preceding year. Thanksgiving is a time to come together with friends and family to enjoy good food and company.
Thanksgiving is a time to give thanks for all the good things in your life. A great way to show your appreciation is by giving a Thanksgiving gift to someone you care about. This could be a friend, family member, or even a complete stranger.
Valentine's Day 2023
Valentine's Day, also called Saint Valentine's Day or the Feast of Saint Valentine, is celebrated annually on 14th February. It originated as a Christian feast day honouring one or two early Christian martyrs named Saint Valentine and, through later folk traditions, has become a significant cultural, religious, and a somewhat commercialised celebration of romance and love in many regions of the world.
One of the most stressful aspects of Valentine's Day is finding the perfect gift for your special someone, whether it gifts for girlfriend or gifts for boyfriend.
This year, show your loved one how much you care with a unique and perfect Valentine's Day gift. Something that is personalised and meaningful will let them know that you took the time to select a gift specifically for them!
Wedding
A wedding gift is anything that the bride and groom receive on their wedding day. It is usually something related to their new life together. They may have a gift registry, but how about something a little more interesting than a kettle and toaster?
For instance, maybe an E-Gift Card from Ren Creative Works that allows the new couple to select between a painting or a commission?
Impact of Gratitude on your Mental Health
Mental health is so important, and it is something that we should all be grateful for. It is something that we often take for granted, but we should really appreciate it. Mental health allows us to think clearly, make good decisions, and interact with others in a positive way.
A large body of research has suggested that people who are more grateful have higher levels of subjective well-being. Grateful people are happier, less depressed, less stressed, and more satisfied with their lives and social relationships. They are found to be more joyful in the long term.
Grateful people also have higher levels of control of their environments, personal growth, purpose in life, and self-acceptance.
Express your gratitude today by sending gifts they might actually want.
Gifts for Relieving Stress
There are a number of different gifts that can be given to someone in order to help relieve their stress. Some people may enjoy getting a session in the gym, while others may appreciate getting some time alone to relax.
Did you know that colours could help you to feel calmer and more relaxed for example?
It is easy to be stressed at the best of times, everyone can benefit from the gift of relaxation. Why not commission a painting that uses colour psychology to help create a relaxing space.
Gifts That Give Back
Giving back to the community is important, and there are many ways to do it. One way is to donate money or time to a charity. Another way is to give a gift that helps someone in need. There are many gifts that give back, such as blankets for the homeless, food for the hungry, and toys for children in need.
I am dedicated to helping others through monetary or time donations. For example, I have participated in a number of charity art sales to raise money for worthy causes. Furthermore, on high-value sales, I believe it is only right to donate to causes close to my heart.
Affordable Gifts for Everyone
I want my art to be accessible to as many people as possible and will always do my best to accommodate every budget.
My method of painting results in one of a kind, original artworks that are not easily duplicated. However, my work is available by special commission and I will endeavour to create a very similar custom artwork if you have spotted something you like on my website.
Let me know how much you wish to spend. I will make every effort to accommodate and tailor something that suits your budget.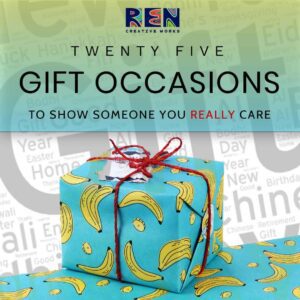 Conclusion: Its Important to Give Gifts, but Choose Wisely
A gift is only as good as how much the receiver values it. When it comes to transferring your emotions through gift giving, it is important to choose something that the recipient will appreciate. Sometimes it can be tricky to know what to give, but there are a few things to keep in mind.
First, think about what the person likes or enjoys. Second, consider the occasion. Finally, make sure the gift is appropriate for the relationship you have with the person. You may wish to consider if there are any gift giving customs especially if you are travelling or sending items abroad. For example the gift etiquette in India, is likely to be very different to the gift etiquette in Japan.
I hope you liked my article on gift giving, and I want to make sure you have a great experience purchasing gifts online. Whether you're looking for the ideal gift for your significant other, friend, sister, or brother, I hope you know that you can purchase unique and valuable presents that show someone you care.
Sending a thoughtful present not only shows someone how much you appreciate them, but it also makes you feel good. It's important to realise that sometimes giving a gift is just as important as receiving one. Just remember to keep it simple, thoughtful, and one-of-a-kind!
If you are thinking of buying a gift for someone, keep in mind that all my paintings, subject to size, are fully insured and come with free worldwide shipping.
You can read my reviews on Google, and if you have any questions, please do not hesitate to reach out to me!
If you enjoyed this article, please subscribe to my mailing list and share it with your friends, family, and business associates if you think they would be interested. As an independent artist, this kind of support is invaluable.
The time you spent reading this blog is greatly appreciated. Thank you.
Jovian Plasma v1
A bright and colourful acrylic painting on high-quality Bristol paper, framed and ready to hang.