Start Your Own Marvellous Art Collection 7 Tips
Collecting art does not have to be difficult, and it can make a significant difference in your quality of life and financial security. People have a lot of misconceptions about this topic, but nothing could be further from the truth. If you want to start an art collection for your home or office, this blog will help you.
You may believe that the most prestigious art markets and artwork are only available to those with millions of dollars to spend.
Although many factors influence the price of a work of art, the basic economic principles of supply and demand still apply to the art market.
The availability of an artist's work for sale, the artist's demand, which is the number of collectors willing to buy their work, and at what price, are all complex factors that affect an artist's supply.
However, do not be intimidated; I believe that everyone, regardless of personal circumstances, can enjoy the many benefits of owning art through purposeful purchasing at an affordable cost.
Nothing beats finding something you adore and purchasing it with confidence, whether it is a painting, photographic print, mono-type, or etching.
Tuning into your own local art scene is important as a community, because without the support of local citizens, our art would not have the impact it deserves. This is a fantastic opportunity to support a local artist and build your own art collection, all while supporting our individual creative freedoms.
How

prospective art collectors avoid becoming overwhelmed with the vast choice out there?

How do you start your art collection on a budget?

Is collecting art a good investment?
How do you make a good art collection?
How much should you spend on art?
How do I get cheap original art?
This article, aims to answer these 'Why collect art' questions, and guide you on your way to purchasing your first original piece of art.
What Makes a Great Art Collection?
Famous and historic works can be extremely valuable, but not everyone associates art with wealth. We frequently hear about paintings selling for more than $£€XX million at large art auctions, which is quite astounding. However, if you want learn about how to start collecting art or more about some of your favourite artists, here are some pointers:
1) Do What Your Instincts Tell You
The same can be said for art collecting. An experienced collector with a large art collection may spend years looking for the perfect piece of art. Others, on the other hand, may fall in love at first sight or chance upon interesting works from a particular art movement.
Is not the fact that you like something enough to persuade you to buy it? It often comes down to whether you can live without something, and if you can't, you should think about getting rid of it.
Be discerning and brave rather than trying to save money by purchasing something inferior from a well-known artist. A good example from a promising emerging artist is an excellent way to acquire something of a specific style.
Supporting the next generation of artists can be a tremendously rewarding experience.
2) Follow Your Favourite Artists via Social Media
I enjoy following artists on social media because it allows me to keep up with trends, techniques, and materials while also discovering new artists. If you enjoy collecting artwork, there are numerous artist accounts on Instagram that can help you discover new pieces.
A growing number of art collectors are discovering new artists via social media. Instagram, among other platforms, has grown in importance for artists, galleries, and collectors, especially during the temporary closure of public spaces.
From the largest art fairs to smaller fairs, social media is a great way to keep track of commercial galleries and discover emerging artists.
3) Original Prints Can Be An Affordable Option
If you want to start collecting art but do not want to spend $£€30,000 on a single piece, there are other options. Original posters, limited edition prints, and limited edition art books are all inexpensive ways to begin building your collection.
Many major artists offer smaller, more affordable limited-edition print editions, so keep an eye out for collaborations and other limited-edition print projects.
However, depending on the light-fastness of the materials used for reproduction, prints can vary in quality and degrade when exposed to bright light.
Remember to account for the cost of professional framing, which can be quite expensive, especially for larger prints.
This is in contrast to my original artwork, which is much more heavily pigmented. For example, to protect my paintings from direct sunlight, I apply at least three coats of UV-inhibiting varnish, which makes them less likely to fade.
4) Discover Art School Graduates
Learning how the art-buying process works can be difficult if you are a first-time collector, especially if you are talking to people who have previous art-buying experience.
Keep an eye out for graduates from major art schools if you are looking for affordable art for sale. At the end of each academic cycle, these artists typically hold final year exhibitions. Most graduates are eager to sell their artwork, especially if they have student loans.
A commercial gallery may be interested in representing them within the next two or three years, so purchasing now is a wise move. Graduate shows allow you to meet the artists and learn more about their work. It may even be possible to arrange a later visit to their studio or attend an open event.
Developing relationships with artists will allow you to become their client and be among the first to learn about their new work. Remember that by subscribing to my website, you will have first access to exclusive offers, previews, and updates.
5) Frame It – The Right Way
Framing is the front piece of any piece of art. It must reflect the overall theme of the piece of art while also expressing its own style and taste.
The key to framing artwork is simplicity. Concentrate on the artwork rather than the frame, and do not let the frame overpower it. A mount should be kept simple, and works on paper should match the colour of the paper.
Using too many options, such as decorative frames and mounts, and selecting the wrong frame colours are common blunders. Keep it simple and remember that this is a display.
When you purchase your artwork, you may have the option of having it framed. Because the seller may have preferential rates with a framer, this could end up being cheaper and easier in the long run.
Before hiring a framer, make sure you find a professional and inspect their work. Check to see if valuable artwork or prints will be insured if you leave them in for framing. If not, it may be a good idea to get art insurance.
6) Move It Around – Plan It Before You Hang It
Changing the placement of an artwork can completely transform the atmosphere of a room, and you will be astounded by the difference it can make. This is frequently the case as your painting collection grows over time.
If you hang artwork in your home and it does not feel right, move it. This is common even in art galleries and museums, so do not be discouraged.
Look at it from different angles, and see if it strikes an interesting dialogue with the rest of your interior décor. Additionally, with the use of mirrors in a room you can reflect the artwork.
One of the most important things to consider is the colour of the wall that your artwork will hang on. Boost the power of your art collection with paint that brings out its colour and detail. Colour theory is an art in itself, but in this post you can read more about 21 Best Wall Colours for Your Art Collection.
Smaller paintings often look great near light switches or hung low over small pieces of furniture like bedside tables. The combination of various artworks can produce extraordinary results and serve as an eye-catching focal point in your home.
You can arrange a collection of frames on the floor or a table to see how they look together. If you are feeling particularly creative, you can mark out the display on the walls with low adhesive/tack masking tape. I discuss how to hang your art collection in this article.
7) If You Don't Love It, Don't Despair!
Your tastes will change over time, just like trends and fashions, and that is perfectly alright; you can fall in love with something more than once.
It makes no difference how nice the room or wall colour is. If you are not happy with something on your wall, or even in your collection, you should consider removing it for a while. You may be able to gain a new perspective on your collection if you take a break from looking at it.
Remember, if you still do not like the artwork after a break, you may be able to sell it for more than you paid for it. However, you must ensure the provenance of the piece before purchasing it, which could be in the form of a Certificate of Authenticity.
Nevertheless, art should not be viewed solely as a financial investment; rather, it should be viewed as an investment in one's quality of life. You would be surprised how many art collectors there are!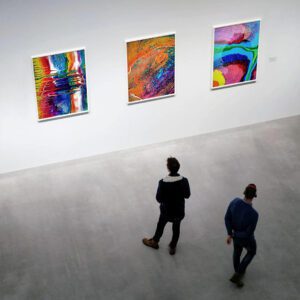 Conclusion: Unlock The Benefits of Owning Art and Begin Your Journey Now!
I hope you found my blog post about collecting art interesting. Many people don't fully appreciate the benefits, which can either be purchased for yourself or given as a gift. Furthermore, with more art you will naturally develop a genuine emotional connection with your home.
Hopefully, you found the information helpful and learned how to start an art collection make an investment that will pay off in the long run, not just financially.
If you enjoyed this article, please subscribe to my mailing list and share it with your friends, family, and business associates if you think they would be interested. As an independent artist, this kind of support is invaluable.
The time you spent reading this blog is greatly appreciated, thank you.
Jovian Plasma v1
Framed and ready to hang, start your art collection today.