Introduction: The Importance of an Artist Biography and Statement
An artist biography and statement are carefully crafted text pieces that provides an overview of an artist's life and work. It is typically used to promote the artist's work, and can be submitted to galleries, museums, and other institutions, and it often can be a deciding factor in whether or not they get accepted into galleries or shows.
An artist biography should be well-written and informative, and should provide a reader with a sense of the artist's style, influences, and achievements. While there is no one formula for writing an artist biography, there are some essential elements that should be included. These include an introduction, background story, professional experience, notable projects, awards and honours, and artist statement.
This article will cover the importance of having both an Artist Biography and Statement, and guide you on what should be included in it and how to write one.
Why Do I Need An Artist Biography and Statement?
An artist biography is an important part of your professional identity as an artist. It is a document that introduces you and your work to the rest of the world. An artist biography should be brief, well-written, and informative. It should give readers an idea of who you are as an artist and what your work is about.
An artist biography can be used for a variety of purposes, such as applying for grants or residencies, or submitting work to galleries or exhibitions. It can be used as a promotional tool to get people interested in their art or to market yourself and your work to potential collectors and clients.
A well-written artist biography can help you achieve your artistic goals and establish your name in the art world.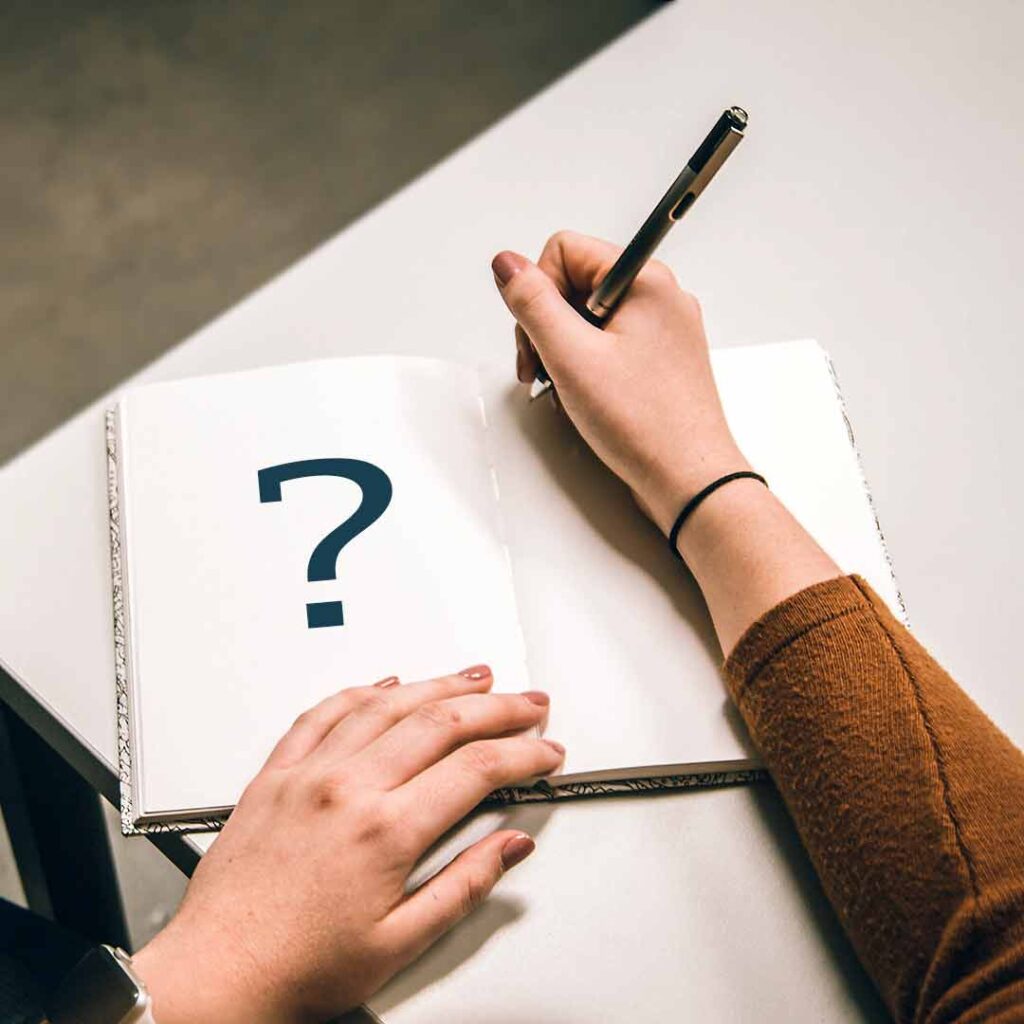 What Is The Difference Between An Artist Biography, Artist Statement and a Curriculum Vitae (CV)/Resume?
While all three documents can be used to provide information about an artist, they each have their own distinct purpose. The main distinctions between the three formats are as follows:
An artist biography is a summary of an artist's life and work. It should include the artist's education, training, awards, exhibitions and any other noteworthy experience. When writing an artist biography, it is important to remember that the focus should be on the work. Biographies are not meant for self-promotion but rather to give a brief overview of whom the artist is, what they do or trying to achieve, and why people should care about them.
An artist statement is a brief description of an artist's work, usually written by the artist themselves. The artist statement is a short introduction to their art and what they are trying or intend to create.
An artists CV/Resume is a more comprehensive document that includes an artist's contact information, education, professional experience, and awards and honours.
What to Include in an Artist Biography
The first thing you need to keep in mind before you start writing is the general style used when adhering to an artist biography format. A biography is a brief, personal account of an artist's life and work. An artist biography should be clear, concise, and interesting with compelling text that will interest readers and connect with them on an emotional level.
They must also understand how to write a biography that will appeal to various audiences and what should be included in it for various purposes, such as educational, entertainment, and so on.
The first step in writing your artist biography is to decide what kind of information you want to include. There are two types: objective (including career highlights and achievements) and to a lesser extent personal (including hobbies, interests, and family life). In either case, the most important thing is to keep it concise while still providing enough detail for people to get a sense of who you are as an artist.
Some of the elements you should include in your artist biography are as follows:
Keep it short and to the point: The general rule for bios is that they should be no more than a single page long.
Include personal details: A good bio will include personal details about you, such as your name, age, location, and education level. You may also want to include your interests and hobbies.
Tell us what you do: This can be as simple as saying "I paint landscapes." or "I'm an abstract expressionist." You may also want to tell us what mediums you work in or what kind.
Include information about your work as an artist including education and experience.
Include any awards or accolades the artist has received.
End with a professional contact such as email address or phone number.
Write in the Third Person
The artist biography should be written in the third person point of view, not the first and should avoid any personal pronouns like "I" or "me." The biography should also be honest and only include accomplishments that the artist wishes to share with others.
Biographical information can be taken from the Artist Curriculum Vitae/Resume and converted into prose, emphasizing the information that best describes the artist.
It also has a fairly simple format that communicates the facts. The template below includes some generic phrases to think about, as well as being a formula that has been proven time and again to work.
(Artist name) lives and works in _________. X received a ___ degree from _________ (year). Some of X recent exhibitions include _________, _________, and _________. X received the _________ award/prize/grant in (year). X works are in a number of collections, including _________ and _________. _________ and _________ have reviewed X work.
X = Preferred Gender Pronoun
Alternatively, the artist's educational line could identify that they interned, studied, or worked in a studio.
What to Include in an Artist Statement
An artist statement is a written description of an artist's work that is intended to help the viewer understand it. As such, it is consistent in its approach, descriptive, or reflective in nature, with the goal of informing, connect with an art context, and present the basis for the work.
An artist statement is an artist's written description of their work. It may also include their thoughts on art-making or the creative process. An artist statement is a short, pithy paragraph that sums up what your work is about. It should not be confused with the artist's CV/Resume. It is not a or portfolio.
The purpose of an artist statement is to provide a concise explanation of the work you do and why it matters in order to help potential collectors and curators understand your intentions.
In an ideal world, it would also serve as an introduction to your exhibition or show, but this usually isn't practical for artists who don't have solo shows often enough or don't exhibit in traditional ways.
When it comes to writing an artist statement it should include a clear and concise overview of the artist's work, as well as a strong statement of intent. In order to write a great artist statement, it is important to consider the following points:
What are the artist's:

Artistic style?

Influences?
Goals?
Background?
History?
Accomplishments?
Philosophy on art?
Once you have considered these points, you can then start to create a statement that is both interesting and insightful.
Write in the First Person
While biographies are written in the third person, statements should be written in the first person. Writing in this format makes the artist statement's body text sound more authoritative and professional.
Artist Statement Examples
The following is a random example of a short artist statement:
"I paint in order to convey my own personal impressions and emotions about life. I hope that my paintings will make people stop for a moment, look at the world differently and believe in themselves."
During my university days, I recall listening to peer review critique sessions where untold levels of 'art speak' associated with contemporary art theory were used. 
Art speak, like academese, refers to the tendency of people in specialised fields to speak/write as if everyone else understands the same thing. When communicating, these people frequently come across as pretentious and pedantic, and they use perplexing academic jargon.
When it comes to inclusion of plain-speaking non-specialists, I strongly advise using the principles of a simple writing style, as simple ideas can get complicated fairly quickly.
Presentation: Online or Print
When presenting your biography or statement online or in print, make sure it is easy to read, with clearly defined headings for each section.
By balancing white space and using sans serif typefaces like Arial, Helvetica, Proxima Nova, Futura, and Calibri, for headers, and serif typefaces like Times New Roman, Garamond, Baskerville, Georgia, and Courier New for content, or vice versa, readability can be improved. 
Furthermore, by limiting the number of typefaces to two, one for headers and another for content, is a widely accepted standard. For example, I use serif for titles and headings, and sans serif typeface for the paragrpahs on my website.
What Galleries, Museums & Press Look For In Artist Biographies/Statements
The career of an artist is a long and winding one, with many ups and downs. Even the best artists can have a hard time staying afloat in the ever-changing art world. However, those who are persistent and talented often end up achieving great things.
The first thing galleries, museums and press look for in an artist's biography is their background story. They want to know where they are from, what they studied and if they have any notable projects or awards. The next thing they look for is the artist's professional experience.
They want to know what the artist has done with their career so far – where they have exhibited their art and who some of their clients are. The final thing galleries, museums and press look for in a bio is the artist statement. This should be a brief explanation of how the artists sees themselves as an artist – what drives them and why they do.
Galleries, Museums & Press Are Looking For:
An engaging and interesting background story;
A solid resume of professional experience – How many years they have been making art;
Notable projects – What are some of their best pieces;
Awards and honours – Who has given them awards or who has shown their work;
An interesting and well-written artist statement – What does the artist want to achieve, and what are their creative intentions?
In order to be successful as an artist, it is important to have a biography that can help the galleries, museums and press understand who you are and what you do.
Biographies are an important part of the art world. Galleries, museums and press use biographies to find out more about the artist and their work. Biographies should be written in a compelling way to make readers want to know more about the artist.
How to Write a Professional Artist Biography
A biography is a narrative of an individual's life and career. It is helpful to remember that a biography is more than just a list of accomplishments. Instead, it should paint a complete picture of the artist and their work.
When writing your artist biography, you want it to be the best representation of your career, but keep in mind that your career is constantly evolving. Make sure your bio evolves alongside you. As your success and knowledge grow, you can add and remove professional accomplishments.
To help you in your writing endeavours I will share with you the following process:
KEEP
Key Point: Define each key point in one sentence
E

laborate: How do I give a more detailed explanation of the point(s)?

E

xample: Specific examples are vital. What example would help my reader remember this point?

P

ractical advice or Insight: What do you want your reader to do or remember?
Step 1: Gain a Better Understanding of Your Audience
A successful artist biography is one that is both informative and appealing to the audience. It should be an accurate representation of the artist while also written in a way that will pique the interest of both potential clients and galleries.
In order to begin, it is imperative to understand your target audience better. What are their passions? What are their interests? What are they concerned about? By knowing this information, you can create a profile that appeals to them.
A biography of an artist is an important part of any emerging artist's marketing campaign. It is the first impression you make on potential clients, and it is frequently the deciding factor in whether or not they purchase your work.
Define my audience – Who's my target reader?
Step 2: Determine the Correct Information to Use
The introduction is the first paragraph of your artist biography. It should be short and to the point. The introduction should serve as a hook to entice the reader to learn more about you and your work.
A strong opening paragraph will help the reader learn more about you and your work. It will also assist them in deciding whether or not to continue reading.
Define my objective – What does success look like by the time the reader has read this?
Step 3: Create Several Drafts
Many people will form an opinion of you based on your artist biography. It is a critical document that must be flawless. That is why writing multiple drafts of your artist bio and editing them as needed can be beneficial.
The first draft should be a rough draft that you can use to get started on your biography, but it should then be revised to ensure that everything is spelled correctly and there are no grammar errors. You should also go over the document again to look for any other errors or changes that need to be made.
Craft the Introduction – How do I hook the audience and quickly grab the reader's attention?
Step 4: Edit and Edit Some More
It is time to go over your work one more time before submitting it. This is the final step, and it will be worthwhile to spend a few extra minutes making sure your artist biography is flawless.
You should have someone else look over your work to catch any errors you may have missed. It is easy to overlook a mistake after staring at something for a long time, so do not rush through this step.
Edit, Proof, Review Edit:
Is the purpose of this clear?
Is each sentence understandable on first reading?
Does it make clear points that are relevant to my reader?
Is the language as simple as possible?
Proofreading:
Don't rely on spellcheck.
Read from the bottom up, from left to right.
Review:
Ask someone else to review for you – in terms of spelling and grammar, readability, sentence length, accessibility.
When you edit your work, you are looking for any spelling or grammatical errors that may have been missed in the first round of edits. You also want to review your work for any inconsistencies, for example, if you mention a date one place and then don't mention it in another section.
Illustrate that key point – Do I have evidence, examples to illustrate these?
Step 5: Invite Another Artist to Read it
This is a great way to get a second opinion on your bio. It also gives you the chance to ask for suggestions or feedback. You might find that someone has pointed out an inaccuracy in your bio, or they may have a suggestion that you hadn't considered before. 
It is important to invite an artist to read your biography because they have a different perspective that you may not have considered. They may be able to give you feedback on what they think is missing, or what could be added.
This is the last step in writing an artist biography. It is also the most important step as it will ensure that your biography is accurate and appealing to potential fans.
Bonus Step: Continue to Enhance Your Biography as You Evolve
An artist biography is an account of your career that is updated with new information as you go.
The biography is not a document that captures your entire life. It's a living document: one that reflects who you are and what you've done in the present, and one that can be updated with new information as you go.
Maintain, Update and Grow
A biography is a representation of the life of a person. It is not a set thing that you can put together once and be done with it. A biography is a living document that needs to be updated as new information comes in or as you change and grow. It should also be updated when your goals, aspirations, or tastes change.
The following checklist will help you update your biography:
Adding a graduation to your timeline will be necessary if you recently graduated from college;

If you have changed careers, then this information needs to be added as well;

Biographies should also mention any awards or honors you have received in your field.
The Criteria Audience Focus
Was it tailored to the intended audience?
Objective
Are you clear that the reader will understand what you are trying to achieve?
Did you achieve it?
Is there a clear call to action?
Attention-Grabbing
Did you grab your readers attention from the start?
Did you have to reset your focus at any point?
Clarity
Could a reader write down the key points from your biography?
Is your writing easy to follow and process?
Use of Language
Was every word/sentence/paragraph understandable on first reading?

What's my Call to Action – What do I need the reader to do after reading this?
Common Mistakes in Artist Biographies
When writing an artist biography, it is important to avoid common mistakes and errors. Here are some tips on things to avoid:
1. Not Telling Your Story
Tell the reader of your biography your story as an artist from the beginning of your pursuit of art until now. Your creative journey has been interesting and your artist's biography should be too. A thoughtful and well-written artist's biography should include the following information:
Anyone or anything that has influenced your artwork.
Your education or training in the field of art.
Any related experience in the field of art.
A short description of what you would like to achieve with your art.
2. Presenting Your Biography in the First Person
Many artists write their bios in the first person, such as "I did this…", "I was influenced by…", or "I planned to…" However, your biography should sound as if it were written by someone else about you. "She did…", "He was influenced by…", "She planned to…"
Additionally, if you need to write a press release, use third person pronouns because they sound more authoritative and professional.
3. Substituting an Artist's Statement with an Artist's Biography
In a poorly written artist biography, the artist may include their artist's statement. Or it will become an artist's statement halfway through their biography. I believe this is because most people prefer to talk and write about their art rather than themselves. Writing is difficult for me at the best of times, but writing about oneself is often twice as difficult.
4. Providing a CV (Curriculum Vitae) Instead
Remember that a CV is a chronological resume of an artist's experience in the field of art. A CV lists the artist's education, experience, solo and group exhibitions, teaching experience, texts, and awards, among other things. It is a resume, not a biography. This is not what someone expects from you when they request an artist biography
5. Additional Common Errors
A biography that contains spelling errors is extremely unprofessional. Make sure to spell check it before submitting it to anyone or adding it to your artist's portfolio or website.
In a biography, there is no excuse for poor sentence structure or grammar. There are numerous online tools available; better yet, have it proofread and edited by someone else.
Writing a bio that is too brief or does not provide enough information about the artist is almost as bad as not having one because it serves no purpose.
Having an excessively long biography. In today's fast-paced world, a reader will not devote much time to reading an artist's biography. Make the bio is concise, brief and easy to read.
If you lack experience in the arts, return to your personal story and explain how you came to call yourself an artist; be creative but do not exaggerate. Perhaps this is an opportunity to reconsider or demonstrate what you are currently doing to gain more experience.
Failure to provide contact information is a rookie mistake. Include your full name, mailing address, phone number, email address, and website address.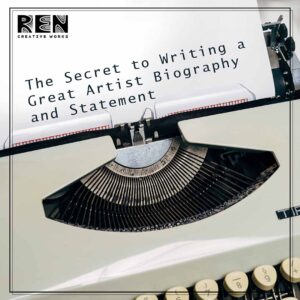 Conclusion: Skilful Writing is an Art
Artist bios and statements are difficult texts to write, but I hope this blog post has provided you with some fresh inspiration as well as the essential elements you should include. Additionally, when considering artist biography vs artist statement, it should allow you to recognise the difference easier.
One of the most important aspects of writing these texts is making sure they are clear, concise, and well-organized. To that end, I outlined the key skills required for these pieces of text and offered some advice on how to achieve that goal.
I cannot emphasize enough how important an artist biography and statement are when discussing your work and life.
If you are an artist, ensure that your biography and statement are well-written, and that you represent and promote your work to the best of your ability.
You can read my one page profile biography and statement here!
If you think a friend, family member, or business associate might be interested in this article, please feel free to share and subscribe.
Thank you for reading.
Could I Write For You?
Need help writing your artist biography or statement? Feeling stuck? You don't have to worry, I can help! With my experience as being an artist, I can provide you with expert advice on how to write compelling text.
Adrian Reynolds is a Dublin based abstract artist. His paintings are a response to the world that surrounds us. A world that is changing faster than ever before. His work is an exploration of colour, form and texture, placing his work at the intersection between abstraction and representation. His work has been featured in Ireland, the UK and the US.