Adrian Reynolds is an Abstract Acrylic Fluid Artist in Dublin, Ireland. My paintings are perfect if you are looking for an original piece of luxury canvas wall artworks designed for your home, office, shop or workplace. If you would like a specific colour to match your interior décor, a specific size, or finish you can request a free no obligation quote. I will work and advise you on what will suit your domestic or commercial space best.
Pick and choose a unique piece or contact me if you wish to discuss a commission / bespoke art custom order.
Free Shipping Worldwide On All Orders.
If you're already thinking about purchasing one of Ren's paintings for your home, then let me just say "go for it!", because you will not be disappointed.I commissioned Ren to do a painting to complement my recently re-decorated living room.He is very, very talented, the quality of the finish really high. So many people have commented on how well the painting looks in my living roomThank you so much Ren, you've really transformed my living space!
I was looking to buy a really special piece of art for a very close friend. I contacted Adrian to see what ideas he would have, if he could create something unique, I wanted something that matched her personality, with a little bit of 'dazzle', that would hang in her bedroom.From the first call, right through to the finished picture I was able to give input. I have to say both I and my friend were both delighted with it.It arrived well packaged, with lovely little touches like the professional stickers and I was delighted when it arrived, totally unexpected, it had ribbon tied around it for her birthday!A really friendly and helpful guy, would definitely recommend if you are looking for a more personalised and unique gift for any occasion.
What can I say? I was looking for a unique and truly special piece of artwork for a newly decorated room, and the piece I bought does not fail. Adrian's work is unquestionably unique. You will not find a copy of any of his pieces anywhere, with each one certified and numbered by the artist himself (I have the certificate of authenticity to prove it). The colours and patterns are unbelievable, and I never fail to notice something different in my piece every time I look at it. Worth every single penny!!!!
We had been looking for a particular style of art and in the colours we liked for years. Adrian took all our ideas, our messy screen shots and very vague descriptions of what we liked and turned it into a masterpiece. We have never been as happy with a piece of art. We were nervous about commissioning a piece but the process was very easy and the outcome fantastic. Thank you so much Adrian, you are a very talented and patient artist. We wish you every success in the future and are already thinking about what piece 2 could be! Thank you.
Could not be happier with my piece, absolutely beautiful work that transformed the room as soon as it was hung. I was looking for something new, interesting and bold, and came across Ren Creative Works whilst researching Irish art options. I certainly got what I was looking for and more... I highly recommend Adrian (and I have to everyone who asks about 'the painting'!)
Follow my blog to read more about my influences and explore advanced art techniques, amazing insider tips, inspirational ideas and expert guidance. Get insights on what I do, like and how I work.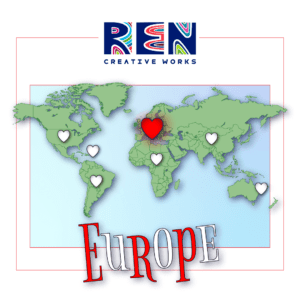 Does Cultural Identity Influence the Creation of Art? In the forth region of this series, we explore the second smallest of the world's continents, Europe.
Read More »