TL;DR
Unlock your creativity and witness the transformative power of art commissions.
Immerse yourself in a unique emotional journey tailored to your needs and desires.
Experience the joy of owning a one-of-a-kind masterpiece that reflects your personal story and enhances your living space.
Commission Art: Gain Motivational and Emotional Benefits
In my very first post, 'Why Buy Art?' I provided a brief overview of some the advantages of purchasing art. So I thought it would be a good opportunity to expand on this thinking in a 'Part 2' and focus more on reasons to commission art.
What is an Art Commission?
So, what exactly is commissioned art? Throughout history, it has been common for sovereigns and administrations to commission public art as a way to demonstrate authority and affluence, or even for specific propaganda purposes.
From the Egyptians and Chinese to ancient Rome, many large architectural projects were commissioned as symbols of regal grandeur. Indeed, many others throughout the centuries, have commissioned art to visually communicate subtle messages.
One such art movement, the Italian Renaissance of the 15th and 16th centuries, is an excellent example.
Commissioning an artwork allows you to be involved in the creative process, the end result being a uniquely personal piece that is made just for you.
Art is a form of visual expression and is often considered therapeutic in many ways. Be it as an observer or someone looking for inspiration, there are numerous facets to art's motivational and emotional benefits. Art has a calming effect on the observer and has a lot more to offer than just relaxation and fulfillment as its emotional benefits.
There are multiple studies that show that creative expression can encourage healing and mental well-being, a proven treatment for anxiety, stress, depression, among other problems. Other than the health benefits, art has a way of lightning up the room just by being in it. It gives a refreshing effect and often is the highlight of whichever room, corridor, hallway you showcase it at. Here are some benefits of art.
The Therapeutic Context of Art
Art has a therapeutic effect on the observer, something you don't need to see a psychiatrist to experience. From every abstract painting to every vibrant colour, art draws the attention of everyone towards itself. It is easily one of the most refined forms of expression, without having to be the labourer of it. You can commission artists to showcase what you feel in a poetic way, and share the viewing experience with others.
Art's beauty is that it lets you experience the finer things in life without compelling you to be the one to create it. It can be your form of expression, a portrait of your emotions, and the source of your inspiration, simply a symbol of what you experience.
Art is something you can relate to; it doesn't necessarily link with creation. Commissioned art has the same therapeutic effect, a sophisticated demonstration of all that is or could have been.
Aesthetics – a Peculiar Motivational Tool
Art has a way of impacting our lives by boosting our creativity and emotional benefits such as impacting our mood. Showcasing everything beautiful, filtered on unfiltered, Art has an emotional appeal to it unlike any other. It compels viewers to see the brighter and lighter side of things, all while being relatable. When placed in a working or living setting, Art's aesthetic appeal increases and beautifies the space it is in.
It also has a favourable impact on the moods of everyone who walks in, simply by being the centre of attention. Studies also show that art helps in reducing stress; the contemplative aspect of art helps to view everything from a different perspective. Commissioned art can be placed according to the nature of the place or business to add to the aesthetic part of the building. The same impact can be achieved with specific commissioned peice that reflects the message you want to send out to the observer.
Boost Creative Thinking
Creative thinking is perhaps one of the most important aspects of our lives. Art itself is an innovative form of expression, and what's more, is that Art can boost creative thinking.
Simply by viewing the contents of the painting, you can see a whole different world in each colour and stroke. It can also help in preventing memory loss, all while boosting mental fitness. The research by Dr. Lawrence Katz in neuron regeneration found that mental health declines when communication between brain cells decreases, rather than the death of the brain cells themselves.
With art, you continuously exercise your brain in a different and healthy way. By looking at a beautiful portrait in a million various aspects. A commissioned painting can help improve your creative thinking and for those around you. Instead of a one fits all approach to art, commissioned art is specific, sophisticated, and fulfils a purpose.
With a particular context in mind, commissioned artworks can showcase the message you want to convey in a creative way. So, invest in art with something abstract and beautiful to say.
Art Reflects Emotions
In numerous researches published by Dr. Gernot Gerger, the emotional tone of artwork is considered alongside their influence on the viewer. The context is the same; art reflects emotions and can also promote those emotions in the observer. 
This makes commissioned art truly fascinating because of its possibilities. Be it in a commercial area or on a residential setting, you will leave a favourable impact on your employees, guests, and acquaintances simply with your art selection.
Brighten up the moods of the people you contact with your choice of art and commission artists to create masterpieces that boost the feel-good hormone. Dopamine, the favourite hormone, is often known as the motivation molecule. 
By helping in improving focus and concentration, it is known to uplift moods. With art that inspires and leaves an impact, commission an artist to create content that will uplift, refresh, and inspire your intended audience.
Art Helps People with Disorders
Studies show that art provides a broad spectrum of benefits to those people who have disorders, diseases, discomforts, and disabilities. Simply viewing art can improve various mental issues, as well as physical symptoms. Commissioned art conveys the message and makes a symbolic gesture to those who need it to do their best.
Art helps reduce stress and anxiety and is easily one of the most pleasing forms of impact and meaningful presents. Commission an artist to create art that reflects the feelings we all want to feel. 
Art can help with reducing Post Traumatic Stress Disorder (PTSD), bipolarity, and tension, making it the perfect accessory for any living space. Improve the overall quality of life and your area with art commissioned on demand.
The Benefits of Bespoke Art
Request a quote to get your very own painting by Adrian Reynolds, that is personal, unique, and one of a kind. Simply request a free no obligation quote, to get luxurious, on-demand, detailed and sophisticated artwork delivered to your doorstep, which includes complimentary Free Worldwide Shipping.
With exceptional painting techniques, have commissioned artworks that are truly one of a kind and not easy to duplicate in sizes, details, finish and frames of your liking. Have a masterpiece for your commercial or personal residence, and experience the many benefits for yourself.
Increase Connectivity and Emotional Resilience
Art's benefits are everything but limited, but what puts Art truly in a league of its own is its impact on creating emotional resilience. Commissioned art showcases a different, unique, and sophisticated tale, it enables your brain's ability to grow connections or neuroplasticity. With a message behind every piece, Art stimulates communication outside and within.
Shows the Message You Want to Convey
Having art in your living space encourages communication with your intended audience as well as through various parts of the brain. Art improves psychological and emotional resilience and helps to reduce anxiety and depression. 
After all, nothing improves anyone's mood more than walking through a clear space with complementing art. A revitalising and calming experience that works well in both a business and a residential setting.
Emotional Benefits Taliored to Your Preference
Having Art that inspires and woos everyone is just that, art. Having art in your living space is an investment that has enormous returns. Not only does it bring the entire living place together, but it also helps foster great emotions in everyone.
Therefore, having art in your office booth or in your private room is a breath of fresh air for you and everyone around you. Commissioned art is all about creating an expression that everyone can relate to, that belongs to everyone.
Commissioned Art is Inspiring, Motivating and Well Composed
When abstract creativity meets paints, art creates a feeling of tolerance, love, and happiness everyone can relate to. Studies show that viewing art has an impact on how you think and feel. Numerous studies reveal that viewing art creates a response in the same brain area that registers love. 
Commission an artist to create not just art, but an experience for your audience. Make the visit memorable as well as pleasant with refreshing commissioned artworks.
Art is Beautiful, But How Can It Benefit you?
Art has numerous benefits overall, but the main point is, how can it be beneficial for you? The real answer goes beyond art being good for health or having a calming effect on people. By adding art to your home, offices, shop or business; or even sending commissioned art as a gift, you can unlock the true potential of art for your benefit.
Benefits of Art for Your Home & Business
Among the many techno-gizmos, machines, and fancy equipment of our modern lives, many of which have built-in obsolescence, art is a constant. Maybe the electronic device you're reading this on is nearing the end of its artificially limited useful life. Art, on the other hand, rarely goes out of style or becomes obsolete, and it generally retains its value.
Adding a touch of originality to the interior of your home or, if you own a business, running a hotel, restaurant, or even a bar will be beneficial. You may be thinking about buying or selling your home or commercial space, and staging your property with some art is a smart idea. Artwork can be used to start a conversation, remind the buyer, and create an emotional connection to your outstanding property.
Breathe Life into a Space
Having your precious space decorated with Art creates an entirely new perspective and appearance that is unmatched by anything else. Commissioned art can create a private space that you and visitors can reflect and admire.
With commissioned art, you can pick a design or style that works for you. Art is inspirational, so allow it to inspire you when you are planning your spaces.
Create Focal Points with Art
Perhaps one of the best benefits of commissioned art is improving a walled room's imperfections by emphasising specific points. Whether you have a small space or an oversized hall, you can instantly make the living space more attractive with abstract commissioned artworks.
Art Encourages Dialogue
With art in your home or business you are adding originality and modernism into your living space. Anyone will appreciate the extra time, skills, and effort it took to plan out your living space or your place of work. Along with commissioned art, the art speaks louder than words and encourages dialogue with creative thinking. Making art an excellent conversation starter.
Benefits of Art for Your Corporate Office
Standing out and making the surrounding look apart is the real challenge. By adding art to your office space does more than add to its aesthetic appeal. It helps in transforming your office space for the better with commissioned Art. You can read more about some of the reasons why businesses should invest in art.
Art in the Office Unlocks Creative Potential
With art, you can unlock your employees' creative potential and inspire them to take on a better approach towards work. It also allows them to take a break now and then and enjoy the beautiful commissioned artworks. Art acts as a source of mental and emotional stimulus to your employees, helping them work more effectively.
Increases Morale
It is difficult to downright impossible to imagine an all-white walled office space, with no colours or artworks to keep the place from looking gloomy. This is because commissioned art can genuinely improve the site's aesthetics and make an excellent environment for anyone to work in. 
Discover the symbols and signs that leading businesses use, and improve your office space with commissioned art.
Enhances Employee and Visitor Experiences
A significant benefit of commissioning art is the experience it creates; not only does art uplift the overall environment of the office space, but it also creates a sense of comfort.
Commission an artist to create a space where clients can meet, employees can brainstorm, and places where visitors can wait for their turn. Inspire your workers and your clients with a modern office space.
Benefits your Company's Interior Décor
The case of business owners is no different from those looking to upgrade their office décor. Commissioned art can help create an environment that is both sophisticated and aesthetically appealing for your workers and clients.
Art in your Building's Décor Attracts Attention
While the goods and services you offer alone might be enough to get more customers, commissioned art can help in bringing in more foot traffic.
A commissioned painting, for example, can significantly improve the overall aesthetics of your outlet and provide a beautiful appeal that will draw the attention of anyone passing by; curiosity may increase footfall.
Create a Better Customer Experience
As soon as your customer walks into the moment, he makes a purchase and steps out and uses the product; customer experience is everything. Improve the customer experience by adding commissioned art to the space, allowing your customer some room to explore, be inspired, and be impressed with your product. 
An article on visual merchandising by Ankita Bora, reflects on the importance of aesthetics to finalise sales. The overall appearance of your store or business can contribute significantly to increased sales, so now's the time to commission an artist to create Art that impresses your customers.
Compliment your Products or Business
Add to the beauty of whichever product you are selling by accentuating its offerings with commissioned art which is complimentary to your products or business. Pair your best products against fine abstract designs and showcase them in the best way possible to your buyers.
Benefits of Art as a Gift
A piece of commissioned artwork is a truly unique and original gift. Unlike other mass-produced 'home décor' store-bought items, a commissioned art piece is truly one of a kind and is unlike any other.
I love to create new and original paintings for clients to hang in their own homes or to give their loved ones a uniquely special gift. You can read some of my testimonials for yourself.
It also showcases the thought process and the intention of the sender in the most beautiful way. By making the receiver feel special, it also has eternal and never depleting value.
While many other items will gradually lose their value over time, by both principles of depreciation and economics, an item such as a commissioned artwork will forever be that special. Gift your loved one something that will restore their mental energy and help reduce their stress and anxiety.
With commissioned art on demand, show the person your thought process and effort in a beautiful way, ideal for every type of special occasion.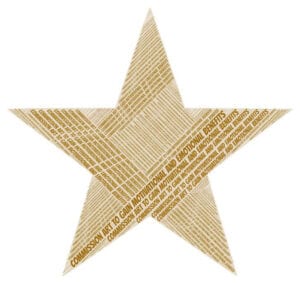 Conclusion: What Can I Do for You?
Art leaves an impact on everyone, it ennobles our lives, lifts our spirits and brings us visible joy.
Here at Ren Creative Works, my objective is to bring all the benefit Art has to offer to your residential home or business. I create artwork that inspires, and derives ideas, style, and taste from a broad and diverse range of sources.
I can create commissioned Art pieces that encourage conversation, a new style of thinking, and an interior aesthetic appeal unmatched by anything else.
Get in touch with me today, and let's create Art that works for you! Learn more about me, and my work, by following my blog, and by all means get in touch with any thoughts or suggestions. Remember you can share all your requirements through my Request A Free No Obligation Quote form, and I'll get in touch with you right away.
Let's make your living space, workspace, hotel, restaurant, and every enclosed space the best it can be with my aesthetic Art pieces made to your liking splendidly!
If you enjoyed this article, please subscribe to my mailing list and share it with your friends, family, and business associates if you think they would be interested. As an independent artist, this kind of support is invaluable.
The time you spent reading this blog is greatly appreciated. Thank you.
Jovian Plasma v1
Created to inspire and derive ideas from.